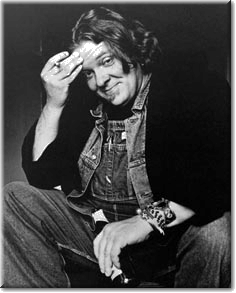 He was the quintessential bad boy: a hard-living, hard rockin' legend on the Los Angeles blues scene for over 15 years. Born James Paul Koncek 46 years ago, he was Top Jimmy to blues fans in the '70s and '80s–a nickname earned as a teen working at Top Taco, where he doled out free burritos to starving punk rockers and the homeless.
The end came May 17th for the rocker. He was called "the greatest blues singer in L.A.".
In Las Vegas, where he had moved in 1993 to care for a sister who had undergone surgery, Top Jimmy succumbed to liver failure.
It was an end some might have predicted for the barrel-chested singer immortalized in song on Van Halen's 1984 album. For 64 straight Mondays, the father of The Rhythm Pigs mesmerized flamboyant David Lee Roth at Cathay de Grande, a gig that was THE music event of the underground blues scene in the 1980s.
Described as "a soul man" by Los Lobos' Steve Berlin, who produced the Pigs' "Pigus Drunkus Maximus," Top Jimmy was honored at the 1983 Street Scene as the only white boy to sing with the living legends of the blues. He raised the roof with such rockers as The Fabulous Thunderbirds, Bruce Springsteen, Crosby Stills & Nash, David Lee Roth, The Doors, X, Big Joe Turner and Bo Diddley.
Most recently, he was the raw energy behind The Line-Up, a band formed with Larry Clark and Darren Simonian on guitar, Johnny Bazz on bass and Jerry Angel on drums. With Top Jimmy on vocals, The Line-Up captured the feel of recordings made in the heyday of Chicago and Memphis blues on "Long Distance Call." The John Doe of the rock band X-production was recorded live in the studio with no over-dubs. Due to be re-released by Bad Daddy Records in late 2001, the 14-song collection will surely be a collectors' item for years to come.
"Jimmy combines a Falstaffian swagger and talent to rank as L.A.'s premier modern bluesman," observed one Los Angeles Times reviewer. And while he professed to have done "things other people would die for," the singer with the growling pipes never realized his ultimate goal: "to be an old man."
Top Jimmy is survived by two sisters, Mary Rosa of Las Vegas and Gladys Gonzalo of New York City.