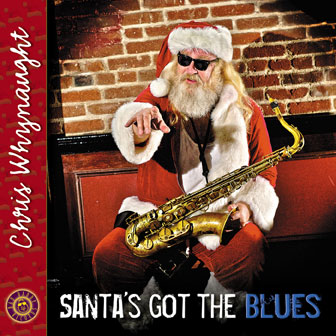 Gaining his first performance experience as a child in southern gospel choirs and playing in his first band, Soul Syndicate at age 17, contemporary blues musician Chris Whynaught also played minor league baseball and was scouted by two Major League Baseball teams. It was hearing a Bobby "Blue" Bland song, In Poverty, that gave him an epiphany and directed him to choose music over baseball.

Following his music calling, he started playing in a series of R&B, jazz, funk and rock bands. Playing in the band Premium Stuff led to his touring with Jimmy Witherspoon, who had a profound impact on Whynaught's future sound. A decade later, Whynaught's band Tough Times landed a record deal with United Artists, which resulted in some high-profile performances. He later played with Mike Morgan and the Crawl. The band's 1996 album Looky Here, sold more than 100,000 copies and provided Whynaught with the resources to venture out on his own.

His solo effort, Heard Him On The Radio, produced in1999, reflects a wide spectrum of experiences and demonstrates the influence a number of classic blues musicians, including Brook Benton and Bobby Blue Bland had on his sound. Backed by a talented group of session musicians called the Reasons Why, Heard Him On The Radio delivered a collection of songs about love and the hard life. It had a distinct R&B influence, but remained rooted in the blues.

Whynaught's powerful voice is reminiscent of such greats as Wilson Pickett and Joe Cocker, but his unmistakable growl is all his own. He is also a saxophonist, which adds another dimension to his unique sountd.

Whynaught has been in hiatus from music for nearly a decade. He has now emerged better and stronger than ever with a new hit just in time for Christmas, entitled Santa's Got The Blues, a song inspired by some of his own experiences. As with Heard Him On The Radio, Santa's Got The Blues is produced by independent label, Bad Daddy Records.

Learn more about Chris Whynaught and his first solo CD, "Heard Him On The Radio."